Screw Drive Openers
Garage doors operate on a motor, and there are three types of openers available in the market: chain drive, belt drive, and screw drive openers. A screw-driven door opener uses a trolley that is carried by a metal rod, which in turn is revolved by the mechanism's motor. Unlike a chain drive opener, it has lesser moving parts, which makes it ideal for homeowners who want less hassle maintenance. It also opens doors a lot faster, at 10 inches per second, which is a big difference compared to 7 inches per second on chain drive and belt drive openers.
We Repair Garage Door Parts and Excel in Overhead Door Replacement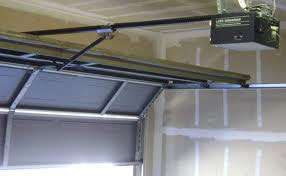 Of the three types of door openers, a screw drive opener is in the middle when it comes to noise. It is much quieter than a chain drive opener but a little noisier than a belt-driven one. Probably the only downside to this type of garage door opener is that it tends to malfunction in places where the shift in climate and seasons is very drastic. Very high temperature changes during the winter and summer months make this type of opener harder to operate, so homeowners who live in regions where the season change is not favorable to this type prefer either the chain drive or the belt drive opener. It is also more expensive than the other two types.
In recent years manufacturers of chain-driven garage door openers have addressed the issues of sensitivity in high temperature and noise. Newer models are much quieter than the older ones and are no longer very sensitive to sudden shifts in the weather.