Garage Door Repair Hacienda Heights
Call Us Now 626-603-3031
Welcome to our company Garage Door Repair Hacienda Heights
Our company keeps all garage mechanisms in California in excellent condition with our preparedness, speed and quality garage door repair services. Thanks to our good maintenance service, your system will work safely, and our precise installation will greatly reduce the chances you will encounter problems.
Some of the brands we provide service for:
Genie, Liftmaster, Sears, Craftsman, Allister, Chamberlain, and more!
Address: Forest Glen Dr
Hacienda Heights, California
Zip code: 91745
Phone: 626-603-3031
Hours of Operation:

We accept cash, credit cards, and checks.
Experienced contractor for full residential and commercial garage door repair services! Fast intervention, great quality products and meticulous garage door maintenance.
Are you having problems with your garage door parts? If they are broken, damaged or loose, our technicians can take care of the issue and have them resolved immediately. In case the entire garage door needs to be replaced, you can choose from our wide selection of garage doors from popular and trusted brands like Liftmaster, Genie and Chamberlain. We'll remove the old door and replace it with the new one properly. We can also install a garage door opener and program it so you can use it for automatically opening and closing your garage door.
Maintenance should be carried out on a regular basis
Some of the most frequently requested services for garage door repair in Hacienda Heights can include garage door torsion spring repair, garage door cables, garage door adjustment and various track repair services. These services help take care of all of the basic components of a garage door opening system, so that you can be sure that your garage door runs smoothly on its track to the best of its ability. Over time, a garage door track can be prone to a buildup of dirt and grime, which is why garage door maintenance should be carried out on a regular basis.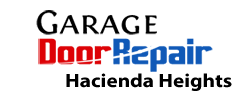 Along with this regular cleaning, other maintenance services that can be undertaken by a Hacienda Heights garage door repair company can include lubrication of the various parts. This will help keep them operating without friction, to minimize any damages to the garage door system. Another area that can be problematic is the garage door opening system, which can deteriorate over time. The usual types of services that we are ready to do for you are: garage door sensor repair, garage door opener repair as well as garage door remote programming.
If there are severe damages to the garage door, then a full garage door replacement may be necessary. If you have the chance of the assistance of a Hacienda Heights garage door repair professional, you can choose the best materials for your new garage door installation. This will ensure that you find a design to showcase the rest of your house, and keep your new garage protected from the elements outside. Wood, steel, aluminum, and vinyl garage doors are just a few of these various options, which should all be discussed with your service professional of choice.
Amarr Specialty Garage Doors
If you want a glass unit, you should definitely check the Amarr Speciality garage doors collection. Our technicians will be happy to provide shopping assistance as part of our installation service. The Vista collection offers models with thick aluminum frame and glass panels. The frame finish options include anodized finish and powder coating. They are both equally reliable, but the latter can withstand the damaging effect of the salty air in coastal areas better. The choice of panels is quite wide ranging from clear and gray, bronze and green-tinted glass to obscure, frost and snow glass. The latter two offer the highest degree of privacy. The Specialty range also has the Coastal collection offering vinyl units designed especially for houses on and close to the shore. They do an excellent job in keeping sand and salt out. The material is resistant to their damaging effects as well. The Coastal units have polystyrene insulation.